For more than 40 years, the Stennis Institute of Government and Community Development has worked alongside government officials and civic leaders to help build a better Mississippi.
As a local leader, your time and resources are limited. You struggle to find the resources, data, or strategies necessary to address challenges facing your community.
Through training, customized assistance, and research, the Stennis Institute staff has the expertise, resources, and capacity to help you make the difficult decisions needed to address those challenges and move your community forward.
Services Provided
Action planning & implementation
Asset identification & development
Capacity development & training 
Citizen engagement
Collaboration building & collaborative action
Community planning & design
Grassroots project implementation
Impact mapping
Plan implementation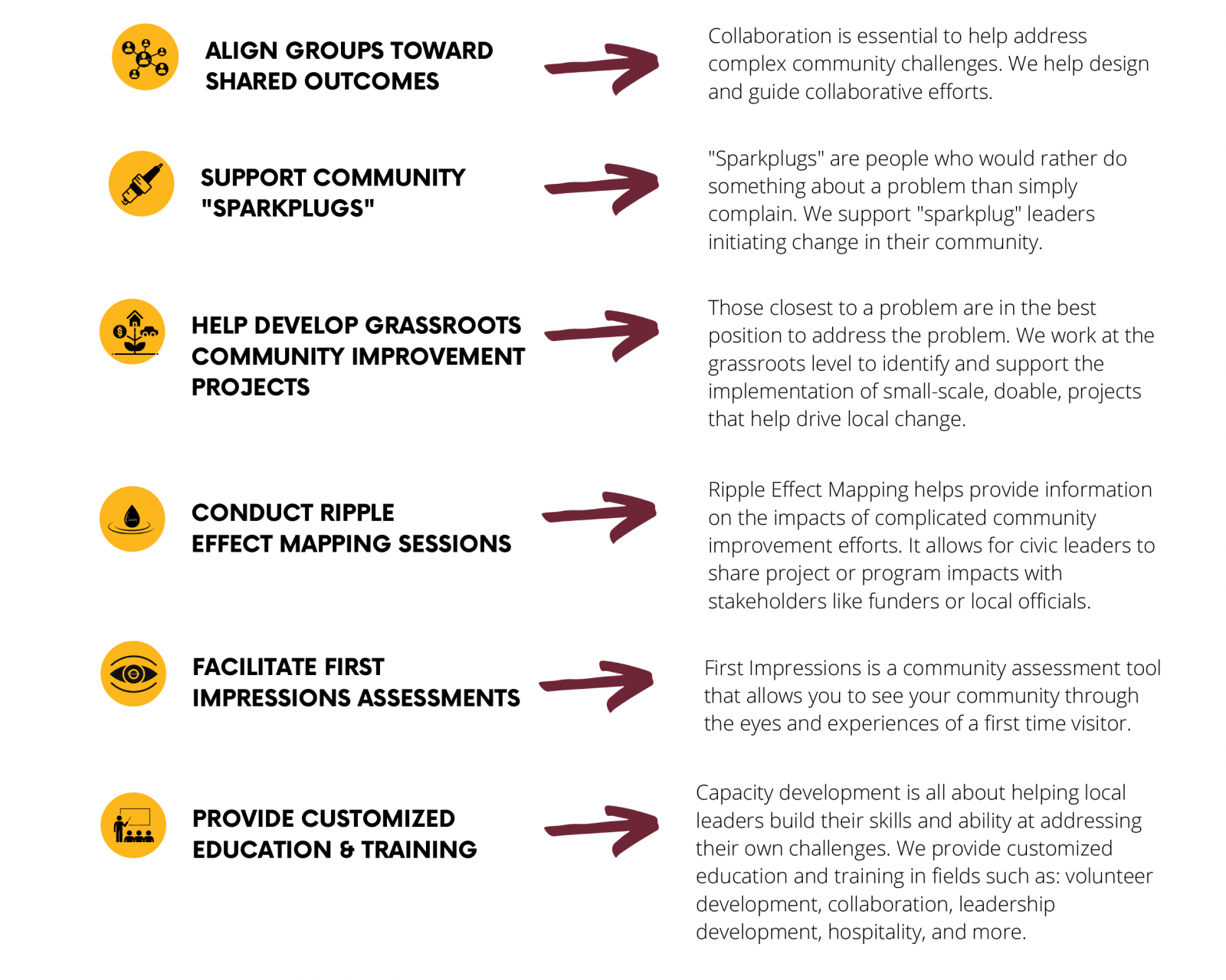 Programs
First Impressions
Ever wonder what people visiting your town think? First impressions are important as the community works to improve the overall quality of life and uncover its sense of place. First Impressions is a Stennis Institute program that allows you to see your community through the eyes of a first-time visitor.
First Impressions First Impressions
Strategic Doing
Strategic Doing is an exciting new approach that helps local communities, regions, and organizations form the collaborations needed to address complex challenges.
Strategic Doing Strategic Doing
Ripple Effects Mapping
Initiatives undertaken by nonprofit organizations, educational institutions, local governments, etc. positively impact the communities they serve, and Ripple Effects Mapping (REM) engages stakeholders in a fun and participatory process to document the results. Both intended and unintended outcomes can be discovered through the REM evaluation technique. 
Ripple Effects Mapping Ripple Effects Mapping
Aspire Mississippi
Designed to help build economic development support networks in select communities, participants will receive basic education and training while designing and implementing collaborative strategies to address specific challenges impeding local economic progress.
Clients
Chamber of Commerce Staff & Boards
Non-Profit organizations and boards
Neighboring associations
Main street and downtown associations
Economic development organizations
Local governmental officials
Educational institutions
Volunteer organizations
Community foundations